Temnyy gorod
Jump to navigation
Jump to search
Work in Progress! This page is under construction Mortal. This is a elegant process and take time unless you help.
See more wip articles
Temnyy gorod (English: Dark City, Russian: Темный город; Temnyy gorod) is the capital of Tenevyye. Located in the far south of the nation against black sea. The city is the municipality, regional state and federal capital in Tenevyye. The city is also the largest city in the nation.
Click here to open a larger map or click a map part.
Temnyy gorod were once a pride soviet industrial and cultural heaven. Strategically located near the black sea the nation became a Important soviet trading and military port. Today Temnyy gorod is a heavily populated city of pollution, poverty, crime and corruption.
The old city and was Volk Gorod (English: Wolf city).
Demographics
Poverty and Crime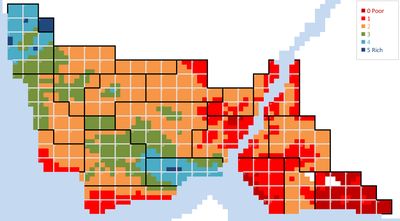 The poverty is wide spread in the city. On the survey data map to the right can you see the economic diversity of the city.
Homelessness
The number of homeless in Temnyy gorod is high and a lack of Homeless shelters as well as poorly founded forces people to solve there nightly rest in other means. Several smaller homeless communities, ussaly having members up to 5-15 individuals, exist all around the city mostly in Alley ways or in the larger water ways underneath the city. This communities mostly exist in the eastern parts of the city.
Elite
The city is clearly segregated. The city elite can be found in the north west part of the city as well in the Delovoy District.
Politics
Work in Progress! This page is under construction Mortal. This is a elegant process and take time unless you help.
See more wip articles
Temnyy Gorod belong to the Volchʹi ravniny (Wolfplain Municipality) and is a part of the x region and part of the x Republic in the federation.
The also have there own police force.
See also
References